As part of the beLong education programme we are offering 10 subsidised Arts Award training places to teachers from school groups who are visiting Houghton Hall as part of the beLong education programme.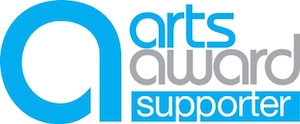 Accredit young people's engagement with Trinity College London's national recognised qualification called an Arts Award! Arts Award rewards the development of creative, communication and leadership skills and the development of arts and cultural knowledge and understanding. School groups participating in beLong can use this visit as part of their students' Arts Award; a visit to a museum or gallery or theatre is an essential part of the qualification.
Places will be allocated on a first come first served basis.
If you have yet to book a visit to the exhibition for your school group and to book your Arts Award training place, please contact fionarobertsart@yahoo.co.uk / education@houghtonhall.com
All schools partnership with Houghton Hall can also support a schools application for the Artsmark Award.
The Festival Bridge are delighted to support this fantastic project.
About Arts Award
Arts Award is a range of unique qualifications accredited by awarding body Trinity College London. The qualification supports anyone aged up to 25 to grow as artists and arts leaders.
Arts Award is…
a great way for children and young people to be inspired by and enjoy the arts;
offered at five levels, four accredited and one introductory award;
a framework for learning new skills and sharing them;
an opportunity to develop creativity and leadership skills;
a link between young people and creative arts professionals
There are five levels:
Discover
Explore
Bronze
Silver
Gold
Discover and Explore are open to ages 0-25 years old
Bronze, Silver and Gold are for young people aged 11-25 yrs old.